On August 25th, the Green Turtle, Gaïa, that had been shot with a spear gun, the arrow entering at lung level, was lucky enough to cross paths with Julien Chalifour, Head of the Scientific Division at the Reserve, who was out on the water that day, just off Orient Bay. Veterinarian Claire Saladin examined Gaïa and realized she was in immediate need of being operated on to remove the arrow. Due to the lack of equipment in Saint- Martin, the turtle was evacuated by plane to Guadeloupe where the ONCFS took charge of her at the marine turtle health center. Operated on by Dr. Leveque, Gaïa was kept in a recovery pool for two weeks before being released back into her natural environment from Malendure Beach in Guadeloupe, on September 18th.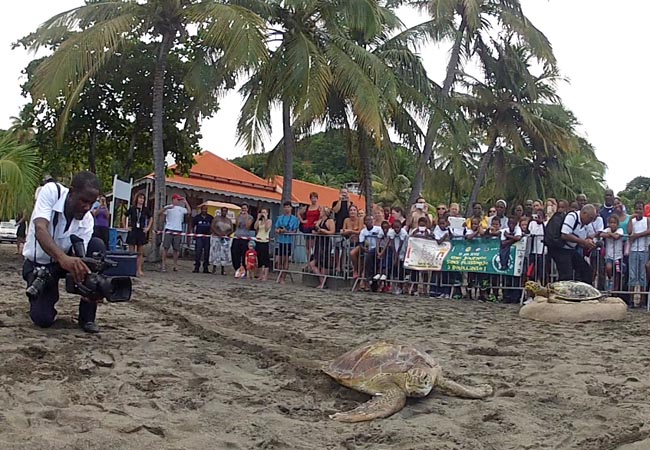 The destruction of marine turtles is a crime severely punished.
But poachers continue none-the-less, as Gaïa's wounds would attest, as would the turtle plastron (under shell) found by the Reserve outside the Reserve boundaries, and the turtle remains discovered by the gendarmerie in a private residence on October 18th (see the section below : "Police actions").
Sea Turtles 2013 season report
Thanks to the 58 eco-volunteers, 831 patrols were able to be conducted on 13 of the island's beaches, and 277 tracks of turtles crawling up the beach were registered. 71% of these tracks led to a nest, representing 197 clutches.