The construction of the boardwalk discovery trail at the Barrière salt pond in Cul-de-Sac that was started in September 2012, is now open to the public.
This stilted wooden trail will allow the public to explore the mangroves and discover the fascinating ecosystem that is dominated by the mangroves; it is also a favorite spot for many birds.
The layout has been adapted to minimize the impact of the construction on the many birds that frequent this sensitive wetland. It also takes into account the comments from the Regional Scientific Council of Natural Heritage (CSRPN). Educational signage with information on the pond, mangroves and associated fauna are currently being made.
The purpose of this trail is both educational and touristic.
The entrance is not far from the pier to Pinel Island. Developed by the Conservatoire du Littoral (Coastal Conservancy), financed with funds from the State and Europe, the trail will officially be opened at the Conseil des Rivages Français d'Amérique (Committee meeting of the French shores of America) – an annual meeting of the Conservatoire du Littoral for the French Antilles, Guyana and Saint Pierre and Miquelon.
This meeting will be held in April 2013, in Saint-Martin.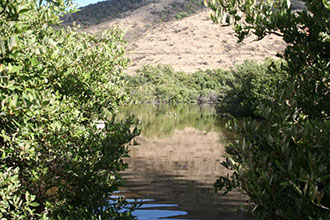 All about the CRFA
Brings together elected members from saint-martin, st. barths, guadeloupe, martinique, guyana and saint Pierre and miquelon.
The invested interest that the elected officials have in safeguarding their environment is up to their extent of involvement in the CRFA: a hundred of them will participate in the next CRFA to be held in saint-martin in april 2013.
They will validate the program and new scopes of land intervention for the conservatoire du littoral before submission to the board of Directors of the conservatoire.